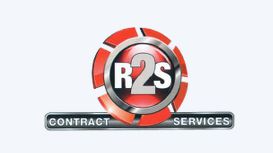 Do your windows look more cloudy than clear? To brighten up your view, book in R2S Contract Services for a thorough window cleaning service. Whether it's just one window or a whole house, we're here to help. You'll be wowed by the results! With our Pure Water system delivering the highest levels of quality, a streak-free finish for each and every window is what we offer.
Traditional window cleaning methods using detergents leave behind a fine film of soap residue even after being squeegeed, attracting fresh dirt back to the window faster. At R2S Contract Services with our Pure Water system, we have no need to use squeegees: windows cleaned with our Pure Water system stay cleaner for longer!
Although tap water looks clean, it actually contains many dissolved chemicals and minerals. It is these minerals (mainly calcium and magnesium) that leave white residues on window glass.
---
Reviews and Ratings
We do not have any reviews about R2S Contract Services available right now.